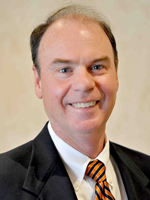 Phillip R. Lankford, CPA, CGMA
Office: (334) 239-8068
Phillip entered public accounting in 1983. Phillip provides a full range of assurance and tax services to clients in various industries, with specialties in construction, nonprofit and churches, retail and wholesale and dental and professional practices.
He also has experience as an accounting manager in private retail and cost accounting and he also worked as a Revenue Examiner at the Alabama Department of Revenue in the sales and corporate income tax divisions.
Phillip is a member of the American Institute of Certified Public Accountants and the Alabama Society of Certified Public Accountants.
Phillip graduated from Auburn University with a Bachelor of Science degree in accounting in 1983 and received his certified public accounting certificate in 1997.
Phillip is an active member of First Baptist Church. He is active in the children's ministry. Prior to that he was an active member of Frazer UMC where he served on the administrative board and was a leader in the prayer ministry and Sunday school. He enjoys spending time with his family, attending his children's ballgames or activities at Trinity Presbyterian School. Phillip loves to go to Auburn games and Walt Disney World.